Enjoy great wake-boarding / fun tube rides / jetski on the big wide Maldivian ocean! We'll teach you the use of equipment so you will always remember it! All necessary equipment is available on site.
Kayaking and paddling is also particularly popular water-based activity in the Maldives, which allows you to paddle around the island and explore the calm water to Spot out for rays, reef fish and enjoy peace and tranquility. it's also a pretty good workout that helps you to keep in shape. Just make sure that you stay protected while out on the Ocean by wearing a hat and being adequately protected with some natural sunscreen.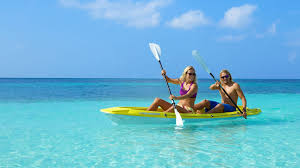 If you really want to laugh until your stomach hurts, then sign up for a banana boat ride! This is a really fun thing to do if you're travelling to the Maldives with your whole family. It involves cleaning on for dear life onto an inflatable boat that is shaped like a banana. The banana boat is attached to another speedboat which will pull you around the island. Be prepared to fall in during this as it's all part of the fun! The best time to head out on a fun tube boat ride and , it is often available year round. But make sure that you wear life jacket for the ride.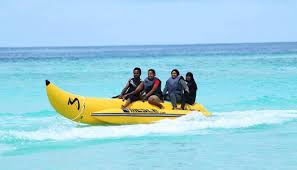 Jet skiing very popular water-based activity in the Maldives as is it in some of the other tropical destinations around the world. this can be problematic for other guests. We allow guests to rent out jet skis and have a bit of fun out on the ocean. Jet skis are an excellent choice if you're a bit of an adrenaline junkie and you want to whizz over the ocean at a pretty high-speed, perhaps with a loved one on the back! 
wake board is similar to a snowboard and the rider has the joy of balancing on one board. Knee boards are for those who prefer to stay closer to the sea. The board allows for kneeling down while riding the waters.